Posted under:
Root Canal
Posted on: November 17, 2020
Invisalign: Frequently Asked Questions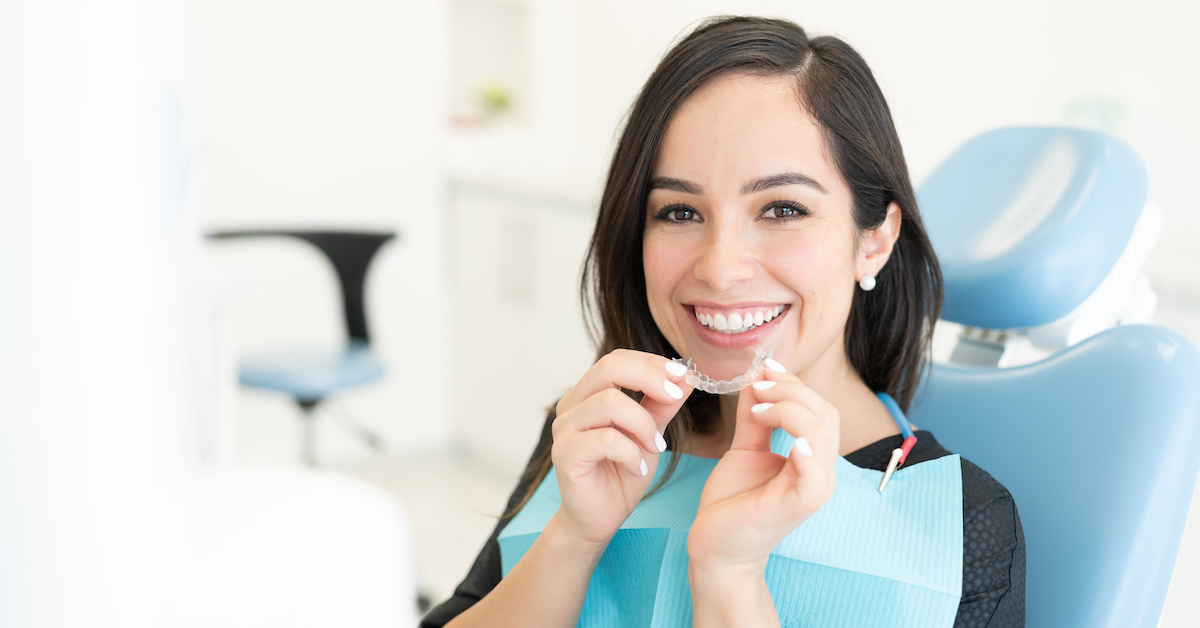 Do you have the beautifully straight, even teeth that you want, or does your smile leave you dissatisfied each time you look in the mirror? If the only accessory your wardrobe is missing is a beautiful smile, then the Invisalign system of aligner trays may be able to help you achieve straight, even teeth without bulky, painful, and cumbersome metal braces. Read on for more information about this modern teeth straightening system.
How Does the Invisalign System Work?
The Invisalign system of aligner trays uses clear plastic trays to gently reshape your teeth into their proper alignment. Unlike the metal wire-and-bracket braces, aligner trays are virtually invisible, and they're easily removed for cleaning and important events.
The Invisalign trays are made of SmartTrack® plastic, which is a very thin thermoplastic that's free of BPA, BPS, gluten, and latex. It molds to the teeth like a layer of enamel, so it's virtually invisible. Because of its elastic properties, it can gently nudge misaligned teeth into the proper alignment without discomfort or pain. Invisalign was invented by a partnership of Stanford students who anecdotally wore the trays throughout their presentation to investors. When they removed the trays at the end of their sales presentation, the investors were sold, and Invisalign was born.
Will the Invisalign Trays Work for Everyone?
Most people are candidates for the Invisalign aligner trays unless they have severe orthodontic issues that require multiple treatments. Other issues that may preclude some people from being ideal candidates include:
Smoking
Severe alignment, bite or jaw issues
Youth, since the teeth and gums of young children and teens may still be developing
Lack of dedication to wearing the trays for 20 to 22 hours daily
Those with poor oral hygiene
It's essential to practice good oral hygiene when wearing the trays. When food particles remain under the trays, then decay and gingivitis can begin, which can damage the trays and prolong the time needed for the Invisalign program.
How Do I Know If I'm a Good Candidate for Invisalign?
When you come to our office, your dentist will examine your teeth and gums to determine your viability for the Invisalign program. If you're a good candidate and you and your dentist opt for the Invisalign system, then we'll compile a treatment plan for you so that you'll know what to expect. We'll consider the following when determining if the Invisalign system is right for you:
Your age: If your teeth and jaw are still growing, then you may not be a good candidate for the aligner trays.
Importance of invisibility: Some individuals are indifferent to the invisibility of the aligner trays, so other types of braces may be more appropriate for them.
Dedication to the program: If you can't commit to wearing the trays for a minimum of 20 hours daily, then the aligner trays may not be the best option for you.
Dedication to your oral hygiene: You need to maintain excellent oral hygiene that includes brushing and flossing after each meal as well as cleaning the trays daily. Otherwise, residual food particles can cause decay and gum disease to start, which will damage your trays and prolong your treatment time.
What's Involved in Getting Invisalign?
When you come to our office for your initial consultation, we'll examine your teeth and gums to determine if the Invisalign trays are suitable for you. If they are, then we'll put together a treatment plan so that you'll know what to expect. We'll make a mold of your teeth and gums and use that to fabricate your aligner trays.
You'll receive replacement trays every one to two weeks, and you'll need to come to our office for a checkup every four to six weeks. Generally, Invisalign treatments take between 12 to 18 months, but yours may take less time or more time, depending on your dedication to wearing your trays and the degree of alignment you need.
Will Invisalign Require Adjustments to My Daily Schedule?
Although wearing the Invisalign aligner trays shouldn't have a major impact on your daily routine, there are some minor adjustments that you might need to make, such as:
Don't smoke during the program. If you haven't quit, now's a good time to do so.
Avoid chewing gum when you're wearing the trays.
Remove your trays before eating or drinking.
Be sure to brush and floss after eating or drinking and before replacing your trays.
If you don't exercise good oral hygiene, it can damage your trays and extend the time needed for your treatment.
How Invisible Are the Invisalign Trays?
The Invisalign aligner trays are made from very thin plastic that hugs your teeth like another layer of enamel. If a person is standing very close to you physically, then they may notice the trays. However, people usually see what they expect to see, so they may not notice them. Those who are farther away will most likely not notice that you're wearing aligner trays. This was one of the selling points of the program initially.
What Happens When My Invisalign Treatment Is Complete?
When you've completed your Invisalign program, then your dentist may recommend that you wear a retainer for a while afterward. It only needs to be worn at night, but the retainer helps keep your teeth in proper alignment so that they don't revert to their previous position. Your Invisalign professional will advise you of the length of time that you need to wear the retainer, but it's usually for less than a year.
Where Can I Locate a Local Invisalign Dentist?
All orthodontists and dentists who provide the Invisalign aligner trays must be trained by Invisalign before they can sell the product. Although there are imitation products, only those with Invisalign training can provide the real Invisalign trays. If you're interested in braces that are discreet and comfortable, then call Ramapo Dental Care at (845) 512-1219 and schedule an appointment. We can help you get the beautiful smile you want, so call us today. We look forward to working with you.