Reasons and Remedies for Tooth Discoloration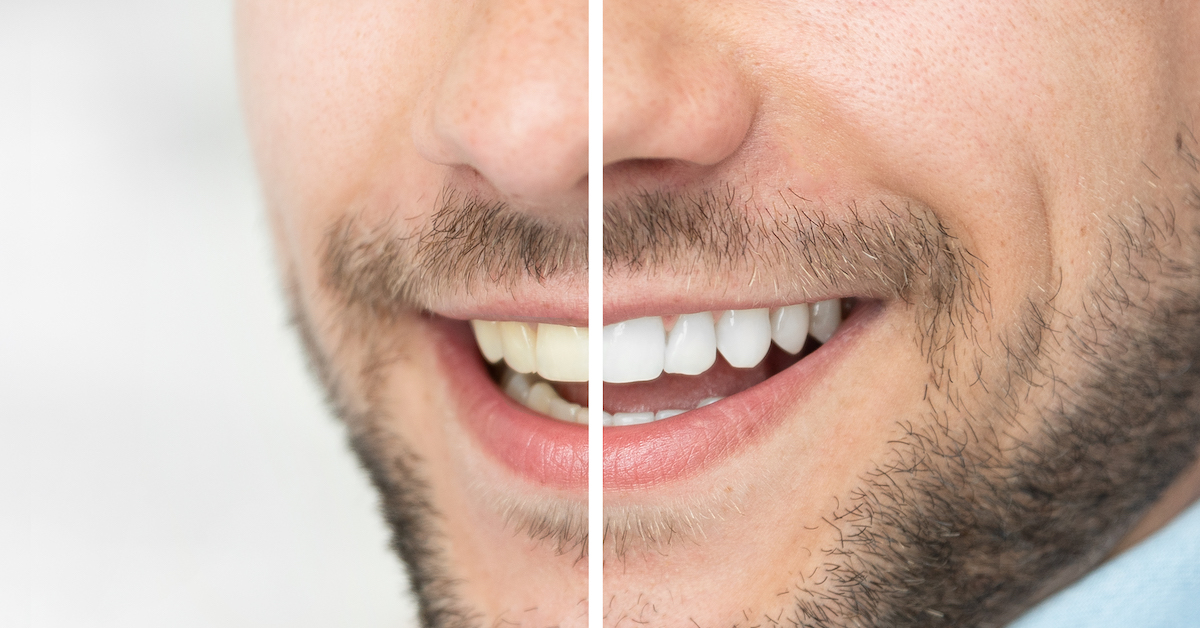 Many people suffer from dark and discolored teeth that make them want to hide their smiles away from the world. Here's what you can do to whiten your smile and improve your self-confidence.
The Reasons Why Teeth Become Stained
There are many things that can cause your teeth to become stained or discolored. Taking certain medications or experiencing a traumatic tooth injury are a couple of reasons. Aging is another. Other causes are tobacco use and the foods and drinks you consume.
How the Food You Eat Can Cause Tooth Discoloration
Did you know that what you eat can impact the appearance of your smile? You may be surprised to learn that there are a number of commonly consumed foods that can lead to tooth discoloration and staining. These foods include:
Sugary Beverages – Beverages like fruit juices, sodas, and sports drinks all contain sugars and acids that break down the enamel of your teeth. Once the enamel breaks down, the dentin underneath is exposed, causing the teeth to look darker in appearance.
Dark Drinks – Tea, coffee, and red wine stain the teeth and are full of acids that also break down the enamel.
Sweet Snacks – Any snack that is full of sugar will attack the enamel and lead to tooth discoloration.
Starch-Stuffed Foods – Starchy foods like potatoes, pastas, rice, white breads, and cereals are full of hidden sugars that reduce the enamel of the teeth.
Foods You Can Consume that Prevent Tooth Discoloration
Consuming a balanced diet that is full of a variety of nutrients is an excellent way to prevent tooth discoloration from ruining your smile. Keep your teeth as white as possible by adding the following items to your diet:
Water – This simple liquid rinses out the mouth so that acids, sugars, and food particles can't wear down the enamel and cause discoloration.
Sugar-Free Drinks – If you want to drink something other than water, the next best choice is a sugar-free beverage. This will also rinse away unwanted substances without adding the risk of eroding the enamel.
Milk and Cheese – Dairy products increase the amount of saliva in your mouth. They also strengthen the teeth.
Fish and Flax Seeds – Containing omega-3 fatty acids, these choices are excellent anti-inflammatory nutrients that can prevent you from developing periodontal disease.
Cocoa – Cocoa has been shown to lessen inflammation. It also offers protection from decay and erosion.
Can Smoking Cause Tooth Discoloration?
Discolored and stained teeth are an enormous problem for smokers. However, there are things that you can do to eliminate this problem from your life so that you can feel confident in your smile again.
Discover the Truth About Tobacco and Tooth Discoloration
Did you know that smoking and other forms of tobacco use are the main causes of tooth discoloration and staining? Staying away from any kind of tobacco use is the best way to avoid these problems. Tobacco doesn't just impact your physical health, but it can also lead to an increased risk of periodontal disease and oral cancer.
Learn How to Get Rid of Stained Teeth Caused by Smoking
The best way to rid yourself of stains caused by smoking is to stop smoking. If you aren't ready for that step, there are some things that you can do to reduce the impact that stains and discoloration have on your smile. The following tips can help:
Having your teeth cleaned professionally two times per year.
Brushing and flossing every day and following that up with an antibacterial mouth wash.
Brushing your teeth whenever you eat or smoke cigarettes.
Establishing a balanced and healthy diet.
A Whiter Smile Is Within Reach
If you smoke, you may believe that you will never be able to attain a whiter and brighter smile. You may think that stained teeth are just something that you have to live with. However, today's whitening treatment options are able to treat stains at every level of severity. Talk to your dentist about the following treatment options:
Over-the-counter toothpastes that are designed with whitening in mind. These work for improving slight stains and also prevent future staining. However, they can make the teeth sensitive to the touch.
At-home whitening kits that you can purchase from the store. These work best on minor stains, but they can also cause tooth sensitivity.
Professional whitening treatments performed by a trained dentist. This is the best option for those who want fast and dramatic results.
Learn How to Prevent Tooth Discoloration
Fortunately, you can avoid the embarrassment that can be caused by tooth staining with a few simple preventative measures. The following dental tips can prevent staining from becoming a real problem:
Practicing good oral hygiene at home via brushing, flossing and rinsing with an antibacterial mouth rinse. These should be done daily.
Rinsing out the mouth whenever you have a dark-colored drink.
Brushing the teeth whenever you eat a meal or a snack.
Receiving professional cleanings at least twice a year.
Having dental procedures done in a timely manner.
Tactics to Tackle Discoloration of the Teeth
Don't hide away your smile because of dark or discolored teeth. Remember that there is light to be found in the many whitening treatments available for you to choose from. Some of the most popular treatment options include:
Professional whitening treatments done by your dentist. The benefit to these treatments is that they are fast and produce the best and brightest results.
Whitening kits that your dentist gives to you to be done at home. These work well on most stains but can take longer than an in-office treatment to receive the desired results.
Over-the-counter whitening kits aren't as strong as professional treatments, so your teeth won't be as white as they would be if you received a treatment from your dentist.
Whitening toothpastes work well for slight stains.
If you have staining or discoloration that can't be treated via the use of whitening products, talk to your dentist about having dental crowns or veneers placed over the teeth to hide signs of staining.
If you're wondering which option would work best for your whitening needs, speak with your dentist as soon as possible.